Penn State Fayette is next deployment for married Army veterans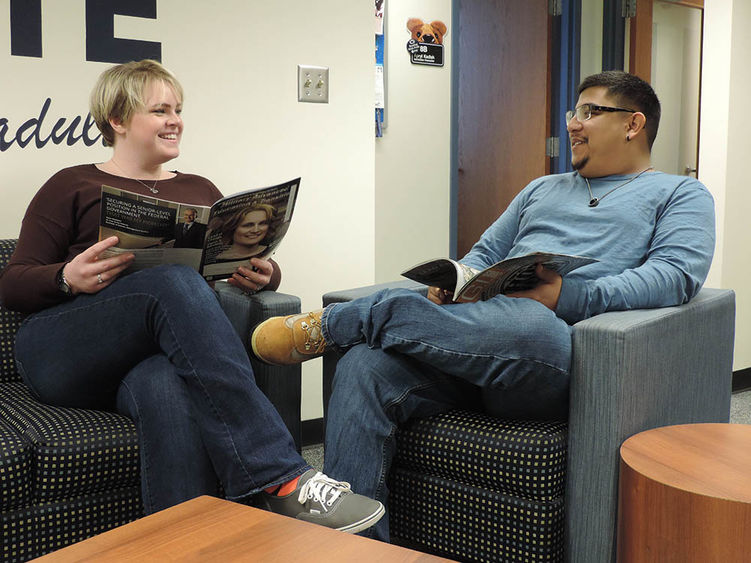 LEMONT FURNACE, Pa. — Lauren and Esteban Esteban fell in love three years ago while serving in the Army as Stryker combat vehicle mechanics in Washington. After leaving the military in 2016, the couple and their two young girls moved to Lauren's native southwestern Pennsylvania and immediately started working on their civilian future.
The Masontown, Pennsylvania, residents knew that higher education was the key to a better life for their family. Backed by the educational and financial benefits of the GI Bill, one of the first places they visited was Penn State Fayette, The Eberly Campus.
"I've always had a love of Penn State because it is a local school," Lauren said. "As a kid in high school, they used to bring us here for French Day, so I was kind of fascinated with the campus," she said, adding that her father encouraged the couple to visit.
At Penn State Fayette, the Estebans initially met with Apryl Kadish, an admissions counselor who worked closely with them (as she does with all veterans) throughout the application process.
"I feel like Apryl does a great job meeting the veterans' needs," said Esteban. "Rick Van Buren (the campus student aid coordinator and veteran's certifying officer) understands the GI Bill and all the paperwork that has to go through. Our transition into the school was flawless. It was the easiest transition ever."
Lauren believes the admissions process is not intimidating at the Fayette campus because of its smaller size. "I would be afraid someplace else," she said, "where you have a whole array of admissions counselors. I am sure that could be hard."
The former mechanics officially made their transition to college students at Penn State Fayette last fall. Lauren, who has always dreamed of joining the FBI, is majoring in administration of justice, while her husband has chosen to pursue a degree in nursing, with the goal of working in a morgue.
According to Esteban, the close-knit campus community helps to make Penn State Fayette "great." "I feel like everybody knows each other in one way or another," he said.
Lauren especially appreciates her membership in the Student Veterans Association. "Getting out of the military, you miss that camaraderie," she said. "Within your unit, you know everybody and you just have that bond with everybody. So, when we came here, there were a good bit of veterans and then we became friends with a lot of those people on campus, and it gave us that feeling again."