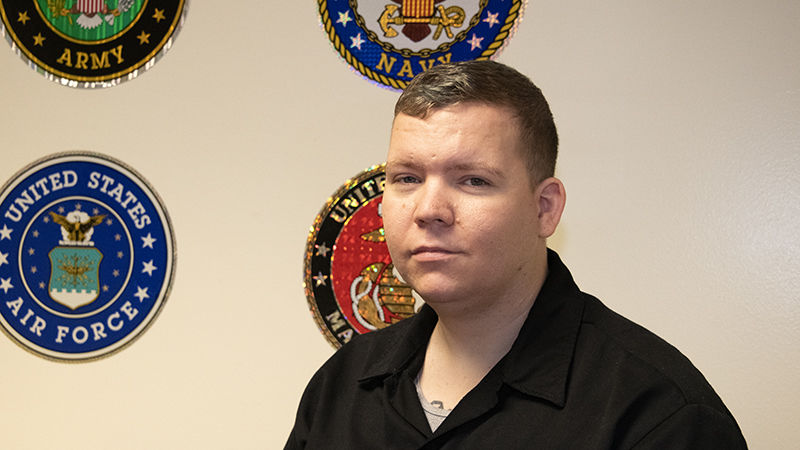 LEMONT FURNACE, Pa. — Jay Willard, a United States Marine Corps veteran and student in the Electro-Mechanical Engineering Technology program, has returned to Penn State Fayette, The Eberly Campus to continue his education after overcoming injury, illness and adversity.
Willard served in the U.S. Marines as a logistics and supply specialist until 2013. He was discharged following a training injury, and moved to Pennsylvania to be closer to family. Then, shortly after enrolling at Penn State Fayette in 2014, Willard fell mysteriously ill and was admitted to the hospital.
"I woke up three weeks later from a medically induced coma," he said. Willard said he was diagnosed with a rare genetic disorder — protein S deficiency — which had been triggered by blood clots resulting from injuries he sustained in training as a Marine.
Several months later, Willard would receive a small bowel transplant at the age of 24. He withdrew from classes to focus on "a difficult recovery," which required numerous medications and intravenous nutrition.
"It's been a hard recovery, but I had the mental attitude of getting better. The military teaches you to adapt to any situation you're thrown in."

-Penn State Fayette student and U.S. Marine Corps veteran Jay Willard
Nearly three years after his transplant, Willard re-enrolled at Fayette for the spring 2019 semester. Today, he serves as the president of the Student Veterans Association.
"Through my experience, I've learned about a lot of veteran organizations in the region, like the Wounded Warrior Project and 'It's About the Warrior'," he said. "Now I can help other veteran students navigate resources on campus, like financial aid and career services. Penn State Fayette has an open-door counselor, which is important for veterans with PTSD and other disabilities."
"Our office provides individual therapy for student veterans with depression, anxiety, adjustment issues, PTSD, family issues, and more," said Amanda Collins, mental health counselor at Penn State Fayette. "I welcome student veterans to request services that are not currently offered, so that I can work to make that happen for them. We are also fortunate to have a local VA in Uniontown, to which I can refer student veterans for additional services."
Willard enjoys the theater arts and has performed in campus productions of Macbeth and Much Ado About Nothing. Originally from Martinsville, Virginia, he now lives in Uniontown with his wife and two children.
A first-generation college student, Willard plans to complete his education in 2023. "It's been a hard recovery, but I had the mental attitude of getting better," he said. "The military teaches you to adapt to any situation you're thrown in."