Penn State Fayette's Brandon Rumbaugh: double-amputee, philanthropist, businessman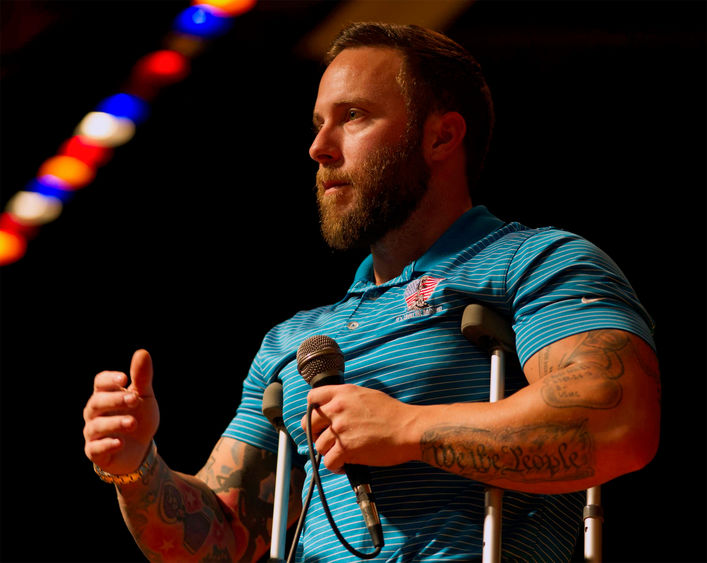 LEMONT FURNACE, Pa. — Four years ago, Brandon Rumbaugh was a world away from the ultra-secure environs of Penn State Fayette, The Eberly Campus, where he is currently a junior majoring in Business.
Back then, the Uniontown native was a 24-year-old Marine corporal on his second tour of duty — this time in war-torn Afghanistan — when a member of his platoon stepped on a buried improvised explosive device (IED).
Rumbaugh rushed to help load the man onto a medevac chopper. But that heroic decision forever changed his life because he also stepped on an IED, eventually losing his left leg below the knee and right leg at the hip.
The next two years of Rumbaugh's life were spent at Walter Reed Medical Center in Bethesda, Maryland, enduring surgeries, learning to use his prosthetic legs, and, ultimately, coming to terms with the loss of his limbs.
"I don't really see myself as disabled," said Rumbaugh, sitting at the dining room table of his spacious, custom-made home, filled with antiques that he collects. "A lot of people say the same thing," he added. "Whenever they see me, they don't see me that way, so I don't get treated any differently."
People may find it easier to look past Rumbaugh's disability because, from the waist up, he is in better shape than many able-bodied folks. His pumped-up biceps and forearms sport a plethora of tattoos.
A member of two gyms, Rumbaugh is an avid weightlifter. Since returning home, he has entered competitions for lifting weights and racing quads.
Referring to the quad races, he said, "I just wanted to prove that it could be done. I think I was the first guy with no legs ever to compete in that series."
Rumbaugh's racing eventually was sponsored by the It's About the Warrior Foundation, which provides counseling and offers grants and other types of assistance to the region's veterans. After getting to know Rumbaugh through the sponsorship, the organization offered him a seat on its board of directors. He gladly accepted and now also runs one of the foundation's grants-making programs.
In November 2014, Rumbaugh sat for the entire month on the streets of Uniontown in an effort to raise awareness of homeless veterans. "I had to do something," he said. "We ended up raising $30,000 and donated it to A Veteran's Place in Pittsburgh for homeless vets." He also received five truckloads of food, which he donated to a shelter in Uniontown.
Rumbaugh is very excited about a recent donation of three downtown Uniontown buildings by Joe Hardy, founder of 84 Lumber and Nemacolin Woodlands Resort. Once renovations are completed later this year, they will house a regional office of the It's About the Warrior Foundation, as well as therapists' offices and a headquarters for Rumbaugh's own business venture.
Two years ago, he formed ACT Motivational Speaking and now gets paid to travel around the country, talking about his life and inspiring others by his example. On average, Rumbaugh speaks two or three times a month to groups at schools, churches, and businesses, including Bristol-Myers Squibb and the Pittsburgh Pirates, Steelers, and Penguins.
Each speech varies by audience, but they all include messages about overcoming obstacles and realizing that bad things happen to everybody. "That is mainly what I try to tell people," said Rumbaugh, "that regardless of whatever situation, it could always be worse — always."
Besides speaking engagements and philanthropic activities, education remains an important part of Rumbaugh's life and plan. At Penn State Fayette, he has earned about 85 credits toward a bachelor's degree in Business with a specialty in Marketing and Management.
He particularly appreciates the small class sizes at the Fayette campus. "You have more of a personal relationship with the instructors and the people who work there, so it makes it a lot easier for you to learn, and you learn more that way," said Rumbaugh, who eventually wants to pursue a master's degree and build his business.
Reflecting on his combat injury, Rumbaugh said he would not change anything because it has led him to a new life filled with purpose. "I am able to help so many people and change so many people's lives," he said, "that I would never want to take that back."