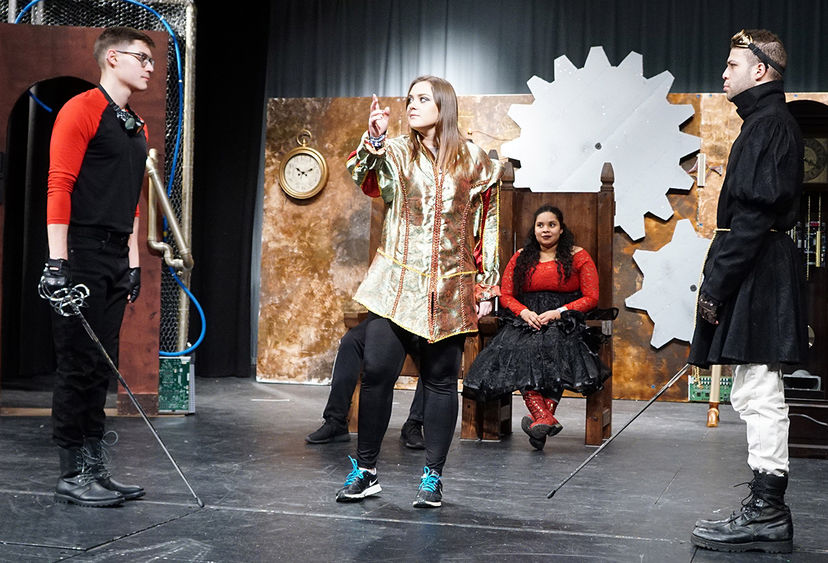 LEMONT FURNACE, Pa. -- The Lion Players of Penn State Fayette, The Eberly Campus will bring William Shakespeare's "The Tragedy of Hamlet, Prince of Denmark" to the stage with matinee and evening performances April 5 to 8. Written around 1599, the plot, which is filled with treachery, revenge, spies and madness, revolves around a less-than-grieving widow's "situation" that leads to an untimely and rash marriage; her pouting, insolent son; and a stalking, revenge-seeking ghost.
The Lion Players will go beyond traditional "Hamlet" performances, with startling set design and actors costumed in steampunk attire. Incorporated into their show will be modern music, a trademark of the Fayette campus acting troupe. Another unconventional twist on the production will be its shortened run-time of two hours, about half the usual duration.
The cast of the show includes: Joe Onesi (director) as Hamlet; Megan Messick (assistant director) as Ophelia; Stanley Moussignac as King Claudius; MiAsia Kennedy (stage manager) as Queen Gertrude; Justin Tatar as Polonius; Caitlyn Williams as Horatio; Pedro Tavarez (assistant stage manager) as Laertes; Bethany Coldren as ghost of old Hamlet, Player King; Tanner Riley as Guildenstern; Michelle Yezek as Rosencrantz; Katie Beale as Bernardo, Osric; Steven Wilt as Player Queen; and Lynn Petko as Gravedigger, Marcellus.
Technical crew members are Nick Harvey, David Columbus and John Fedorek.
Two early matinees are scheduled for 11 a.m. on April 5 and 6, while two evening performances will occur at 7 p.m. on April 7 and 8. All performances, which are free of charge and open to the public, will be presented in the Maggie Hardy Magerko Auditorium, located within the Community Center at Penn State Fayette, on Route 119 south between Uniontown and Connellsville.