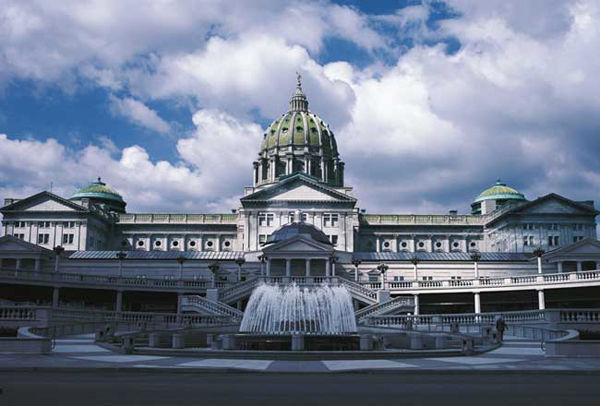 UNIVERSITY PARK, Pa. — Undergraduate students representing seven of Penn State's campuses will present their research to legislators at the 15th annual Undergraduate Research at the Capitol–Pennsylvania (URC-PA) conference, taking place at the Capitol Complex in Harrisburg on April 25.
The Penn State participants will join with other undergraduate students from across the Commonwealth to network with peers and engage with members of the Pennsylvania Senate, House of Representatives, and their staff. All fields of research are encouraged at the event, and project advisers are also asked to attend with their students.
A keynote lecture will be presented by Jim Tartaglia, global vice president of New Vaccine Projects at Sanofi Pasteur. Tartaglia is an inventor on over 20 patents relating to recombinant vaccines, and was a key figure in the HIV Thai trial, RV144, which led to the first demonstration that a vaccine regimen can reduce the risk of acquiring HIV.
New this year, students will have the option of being reviewed by a panel of judges to compete for awards. Students will be judged on how well their poster and oral presentation convey the project's significance to research and policy-making, as well as its potential impact on society.
This year's Penn State undergraduate researchers include:
Hannah Albright
Penn State New Kensington, College of Engineering
Project: "Converting an Abandoned Building Into a Greenhouse"
Project adviser: Joan Kowalski
Nicole Hessler and Rebecca Pratt
Penn State Berks
Project: "The Effect of Language on the Development of Children's Early Understanding of Numbers and Numerals"
Project adviser: Hartono Tjoe
Nathan Larkin
Penn State University Park, College of the Liberal Arts
Project: "Of Marijuana and Monopolies: Increasing Correct Voting in U.S. Referendum Elections with the Citizens Initiative Review"
Project adviser: John Gastil
Peter Martin
Penn State University Park, Eberly College of Science
Project: "Study of Liquid-Liquid Phase Transition in Ionic Salt-Water Mixture"
Project adviser: Bratoljub Milosavljevic
Savannah Nassar
Penn State Fayette
Project: "Mental Illness Stigmatization: Celebrities vs. Non-Celebrities"
Project adviser: Elaine Barry
Abdelmalak Omar and Carolyn Ton
Penn State Abington
Project: "LIDAR Assist Spatial Sensing for the Visually Impaired"
Project adviser: Yi Yang
Kaitlyn Rhubright
Penn State Harrisburg, School of Public Affairs
Project: "Pennsylvanian's Perspectives on Capital Punishment"
Project adviser: Jennifer Gibbs
Gracie Ryan
Penn State University Park, College of Engineering
Project: "COMSOL Modeling of Electrostatic Simulations to Further Understand the Behavior of Electrons in Low Temperature Plasma"
Project adviser: Sean Knecht
Michael Spencer
Penn State Altoona
Project: "High Power Interdigitated Carbon Nanotube Based Micro-capacitors"
Project advisers: Kofi Adu and Ramakrishnan Rajagopalan
Questions about the event should be directed to organizing committee chair Jacqueline McLaughlin, associate professor of biology at Penn State Lehigh Valley, at [email protected] or 610-285-5109.
More details about Undergraduate Research at the Capitol are available at www.pasen.gov/URCPA.
The Office of Undergraduate Education organized the selection process for Penn State students attending URC-PA, and administers the University's Research Opportunities for Undergraduates program. Learn more about Undergraduate Education at undergrad.psu.edu.