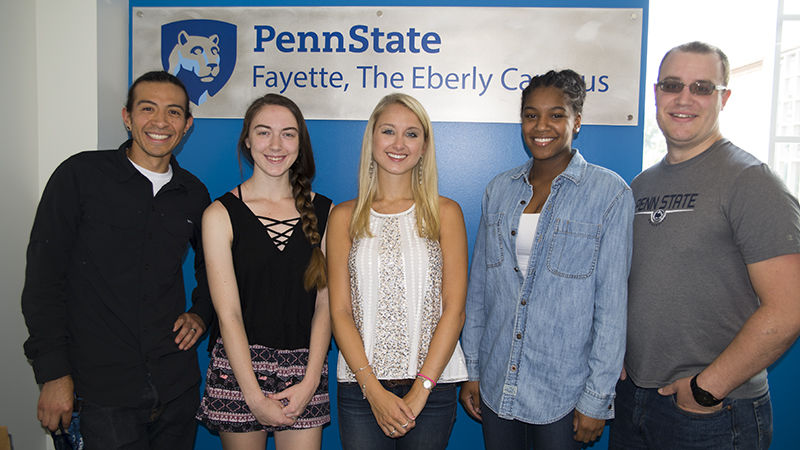 LEMONT FURNACE, Pa. — Five undergraduate students completed independent research projects during the summer semester under the supervision of Julio Palma, assistant professor of chemistry at Penn State Fayette, The Eberly Campus.
When Kaylee Ermine, a junior in the chemical engineering program at University Park, discovered Palma's work at the Fayette campus, she reached out to join the research team. A Connellsville native, Ermine completed her freshman year at the Fayette campus before transferring to University Park. She returned home to the region for the summer semester.
"Dr. Palma is truly an amazing mentor," she said. "He always took the time to explain concepts adequately, answer questions, and help guide me in the right direction when I was stuck at a point in the research."
Student projects examined the charge transport through organic compounds and biomolecules using mathematical models and computational chemistry. Their work has the potential to impact the fields of nanotechnology and alternative energy.
The team included Ermine and fellow students Janai Showman, Jaira Wells, Ryan Godbey and Anastazia Polakovsky. The Eberly Family Science Endowment at Penn State Fayette, established by the Eberly family in 1986, helped to fund the research.
Palma served as a mentor and instructor in the scientific research process. "Each of them had independent studies, but we were a group. We had meetings together and we discussed each other's projects," he said. "I wanted each of them to own [his or her] project."
Undergraduate research is a unique opportunity afforded by comprehensive resources available to the Penn State community, including academic computing facilities, special library collections, laboratories and scholarly faculty. Students may choose to continue their studies independently with the potential to publish in peer-reviewed journals, present at conferences, or bolster graduate school applications.
"This experience helped me realize that I really enjoy research, has enhanced my critical thinking skills, and has enhanced my teamwork skills," Ermine said.
Ermine plans to pursue graduate studies in pharmaceutical drug design. She recommends that students proactively seek out research opportunities at the undergraduate level.
"Research gives you the opportunity to not only apply what you are learning in class but also to learn new things," she said. "If you are considering doing research in your professional career, this gives you the opportunity to determine whether it's the right path for you."