Penn State Fayette continues expansion of undergraduate research opportunities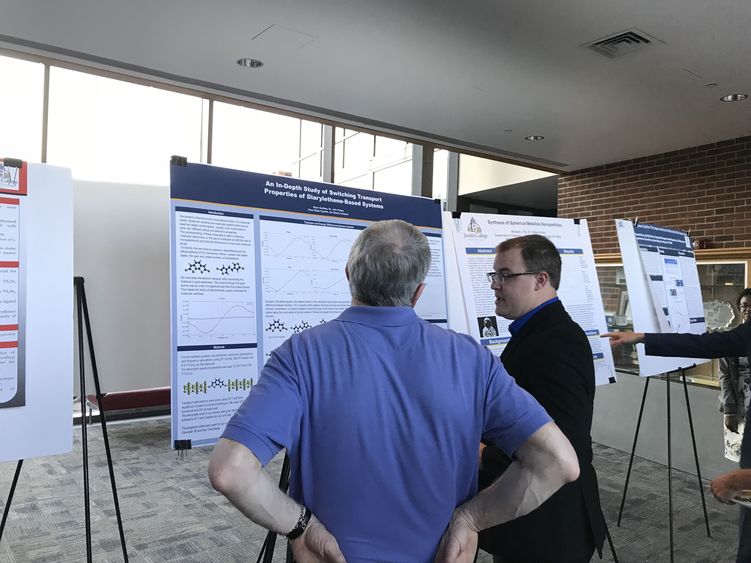 LEMONT FURNACE, Pa. — Students from Penn State Fayette, The Eberly Campus, traveled to the 8th Annual Undergraduate Research Poster Symposium at University Park in September.
The symposium was held by the Central Pennsylvania Local Section of the American Chemical Society. Students Ryan Godbey and Taylor Burkholder presented their research, conducted under the supervision of Julio Palma, assistant professor of chemistry at Penn State Fayette.
"My long-term vision is to make Fayette a hub for undergraduate research."

—Julio Palma, assistant professor of chemistry, Penn State Fayette
Godbey presented "An In-Depth Study on the Switching Transport Properties of Diarylethene-based Systems" and Burkholder presented "Electronic Structure and Optical Properties of Nanographenes."
Rachel Hartley, a Fayette student working under the supervision of Ajaya Warrier, assistant teaching professor of chemistry, presented "Comparative study on the efficiency of metal oxide mixtures for photocatalytic decomposition of organic compounds."
Janai Showman, Annya Kossol, and Anastazia Polakovsky — current University Park students who transferred from the Fayette campus — also presented at the symposium. They continue to work closely with Palma, meeting remotely to discuss research progress. Each student began undergraduate research during his or her first year of study.
"The early start acclimates students to the research process, strengthens their communication and critical thinking skills, and enriches their college experience overall," said Palma, who has been instrumental in developing research opportunities at Fayette. "My long-term vision is to make Fayette a hub for undergraduate research."