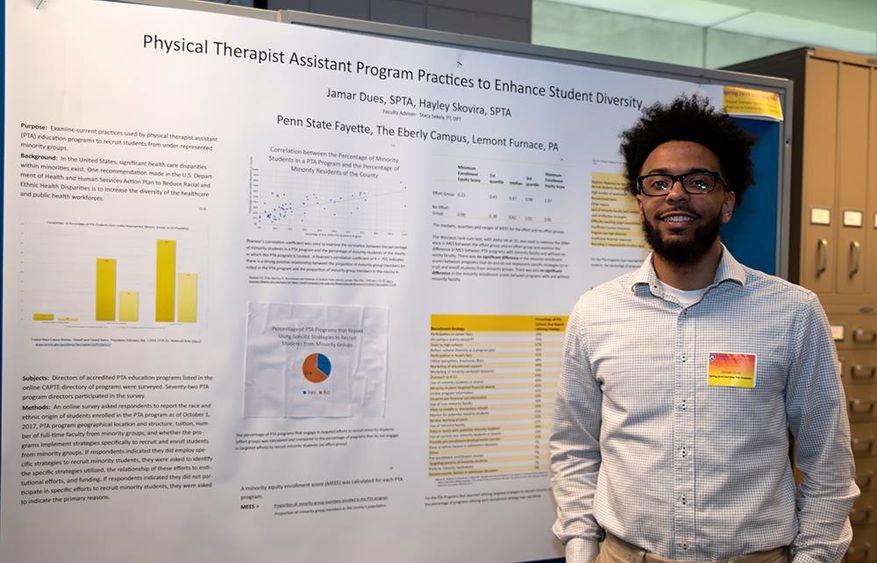 LEMONT FURNACE, Pa. — Penn State Fayette, The Eberly Campus, held the Spring 2019 Learning Fair on April 25 at the campus library to showcase and award undergraduate research and class projects.
A total of 168 students displayed visual presentations of 22 research projects and 81 class projects completed under the guidance of faculty advisors over the course of the spring semester.
Guest judges from the community included Mary Conn, branch manager of Somerset Trust Company; Jessica Firmstone and Lori Scott, business development coordinators at Fay-Penn Economic Development Council; Hilary Griffith, store manager at Walgreens; Justin Grimm and Jared Rebick, learning facilitators at Fayette County Career & Technical Institute; and Mark Scaccia, manager of Fayette Launchbox.
Undergraduate Research Awards
First Place: Michelle Yezek, "It's More Okay to Cheat in an Online Class" (Course: HDFS 496, Instructor: Elaine Barry)
Second Place: Jamar Dues, "Physical Therapist Assistant Program Practices to Enhance Student Diversity" (Course: PT 282W, Instructor: Stacy Sekely)
Third Place (Tie): Alina Baumgardner and Hannah Lipniskis, "How Students' Sleeping Patterns Affect Their Academic Performance" (Course: PSYCH 301W, Instructor: Aris Karagiorgakis)
Third Place (Tie): Brandon Demchak and Sara Halbert, "The Effects of Smartphone Use on College Students' Well-being" (Course: PSYCH 301W, Instructor: Aris Karagiorgakis)
Class Project Awards
First Place: Shelly Volosin, Kaylee Belovich and Ashley Bukovac, "Oil Field Women" (Course: MGMT 433, Instructor: William Gardner)
Second Place (Tie): Dylin Durst, "Investments" (Course: MATH 34, Instructor: Kevin Maxwell)
Second Place (Tie): Jessica Mahoney, Sarah Bupp, Hillary Humberston and Adam Toth, "Losing Touch with Brown" (Course: BIO 141, Instructor: Carol Evans)
Third Place: Lauren Showman, Allex Tressler, Jadyn Barnish and Jaylah Michael, "Marfan Syndrome" (Course: BIO 141, Instructor: Carol Evans)
Yezek, first-place winner in Undergraduate Research, presented her project at the International Convention of Psychological Science in Paris, France in March.
"Undergraduate research has enriched my experience at Penn State Fayette and prepared me for graduate school," said Yezek. "It was truly a life-changing experience."