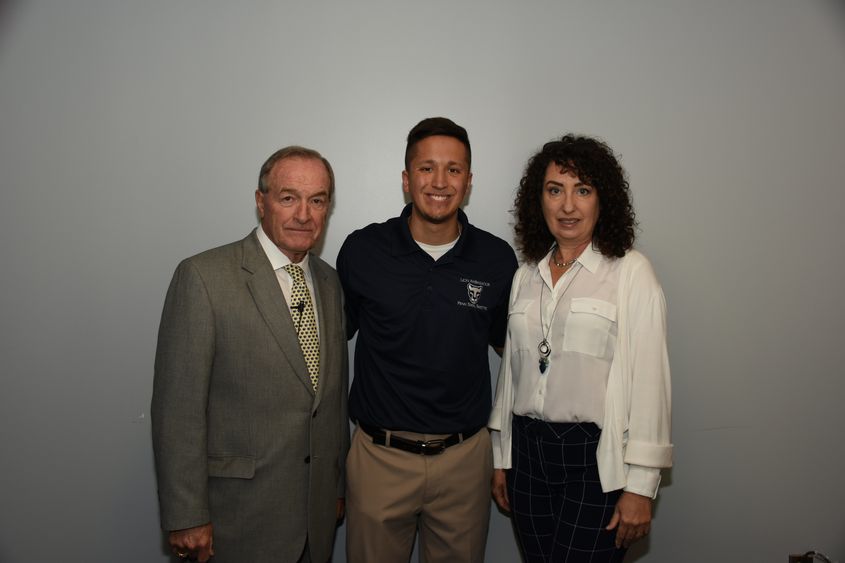 LEMONT FURNACE, Pa. — Terry E. McMillen Sr., founder and president of McMillen Engineering, delivered the first installment of the Fayette Speaker Series at Penn State Fayette, The Eberly Campus on Sept. 18.
McMillen established his civil engineering company in Uniontown in 1977, focusing primarily on land development projects. Over the years, McMillen Engineering has grown to provide a wide spectrum of civil engineering and land surveying services while maintaining land development projects at its core.
McMillen is a registered professional engineer and registered professional land surveyor in multiple states. He holds an associate degree in engineering from Penn State and a bachelor of science degree in civil engineering from West Virginia University. He delivered the Penn State Fayette commencement address in 2010, and he received the 23rd Outstanding Fellow Award from the campus in 2008.
Sophomore business student Dominic Marghella moderated a discussion following the presentation. "I am grateful for a great opportunity to lead our campus in questioning a local entrepreneur icon," said Marghella. "Thanks to our campus community for prioritizing student success, so we have that chance to achieve greatness." Marghella is currently employed at Distributed Engineering Center and participates in Student Government Association, THON, Lion Ambassadors, and Soccer Club.
The next installment will feature Jonathan Garlow, president and CEO of Ford Business Machines, at 12:15 p.m. Oct. 16, in the Student Center. Fayette Speaker Series events are free and open to the public.