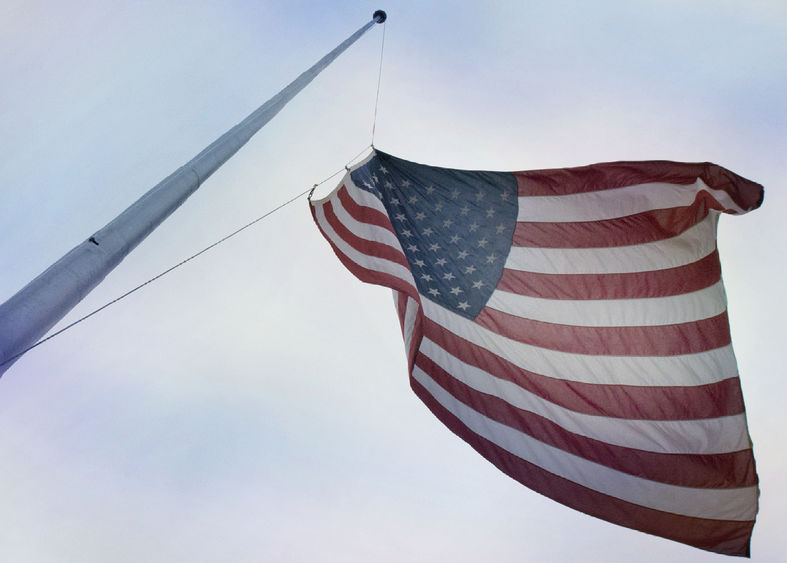 Whether attending in person or watching a portrayal on television, a military funeral service is sure to evoke an emotional response, especially when a family is presented a folded flag, and taps and a 21-gun salute are heard solemnly in the background. For volunteers like Penn State Beaver freshman Andrew Ungarino who are a part of the ceremony, it is an honorable experience that, like those who have fallen, will never be forgotten.
At the age of 16, Ungarino was playing the trumpet for his high school marching band when his teacher realized he had a special talent — he could play taps like a professional.
"Mr. Dilliott taught me how to play taps and how do it respectfully," Ungarino said of his high school music teacher. "I started playing for services at our school and parades, and then Mr. Dilliott told me to look into Bugles Across America."
"For me, it is something I do out of respect for our veterans and their families. It's the least I can do for them after everything they have done to help us."

— Andrew Ungarino,
freshman at Penn State Beaver
An organization with which Ungarino was unfamiliar, Bugles Across America is dedicated to providing military veterans and their families with their final military rights — a flag folding ceremony and the playing of taps. Established in 2000 as a result of Congressional legislation that states that every qualified veteran has the right to military funeral honors, Bugles Across America seeks to provide a live playing of taps during military funerals and memorial services. Since its inception 14 years ago, the organization has grown to include more than 6,000 members who range in age from 12 to 92.
"The legislation states that veterans are entitled to the playing of taps on a CD player," Tom Day, founder and president of Bugles Across America, explained. "But, after everything our veterans have been through and done for our country, I felt that they deserved a live playing of taps by an experienced bugler. That is why I started Bugles Across America."
Before being placed on the active bugler list, a musician must audition by playing taps for a Bugles Across America state director who oversees auditions and manages buglers in their state.
"It's important to us that every veteran's family receives a dignified and respectful sounding of taps," Day said. "That is why we hold auditions, regardless of musicians' experience or background."
Ungarino knew he was a skilled trumpet player but was nervous about the audition process, which took place over the phone. He passed the audition, was added to the active bugler list and is now on call to play for funerals and memorial services within a 100-mile radius of Pittsburgh. He has been a member of Bugles Across America for three years and estimates he has played for about 25 services, some of which were for family and friends. Ungarino also continues to play in parades in the greater Pittsburgh area, including the annual Veterans Day Parade held in downtown Pittsburgh.
"If I'm playing at a funeral or memorial service, I feel that it is respectful to the families of those that have fallen to actually have a real person there playing taps. They shouldn't have to have a recording," Ungarino said. "For me, it is something I do out of respect for our veterans and their families. It's the least I can do for them after everything they have done to help us."
Students at the University Park campus run the all-volunteer Dear Hero Program, sending care packages to deployed troops who need it most. Read more about the love-story origins of the Dear Hero program.
Veterans serving veterans
After serving his country as a member of the United States Navy for 23 years, Keith Medley realized that to fulfill his dream of helping people, he would have to get a college education.
"I was working at Sears and would pass Penn State Fayette every day," Medley, a junior majoring in human development and family studies, said. "Then one day I said, 'You know, I don't like working at Sears anymore.' So I made a left turn and found out what I needed to do to go to Penn State Fayette."
As soon as he enrolled, Medley immediately got involved with the campus chapter of the Student Veterans Association, a national organization that provides veterans with the resources, support and advocacy needed to complete a college degree. Through SVA and a work-study position funded by the Veterans Administration, Medley is able to have hands-on experience working with many of the local student veterans on campus.
"SVA does a lot to serve and honor the veteran students on campus, and our big event each year is our Veterans Day ceremony," Medley said. "We have an Honor Guard and we try to focus on a specific community within the veteran community. This year, we will be focusing on female veterans." Medley added that the annual ceremony is open to guests from beyond the campus, and veterans from local communities also attend.
When the campus started an SVA chapter years ago, Apryl Kadish, admissions counselor for veteran, adult and transfer students at Penn State Fayette, wanted to make sure the campus was doing all it could for student veterans.
"When we started the chapter, myself and the SVA president at the time visited other Penn State campuses and met with local college veteran groups to see what more we could do for our student veterans," Kadish said. Her involvement with student veterans is the perfect role for her, she added, because both of her children served in the Navy.
During her visits, Kadish was introduced to Jason Brosk, a readjustment counseling therapist for the VA Center based in McKeesport, Pennsylvania. After hearing about the new endeavor at Penn State Fayette, Brosk agreed to start visiting campus once a week to provide counseling services not only to student veterans but also to veterans from surrounding communities.
"Through this partnership, we were able to create a veteran mentoring course — Readjustment 101," Kadish said. "Now, every semester student veterans can complete a 10-week mentoring program that reviews all areas of readjustment issues. It's been a real service to our students and to the campus as well."
Medley agrees, stating that he has seen the benefits of the course firsthand, having taken the course himself and worked with other student veterans who have taken the course.
"Adjusting to college life is difficult for veterans," Medley said. "Having  this extra space on campus allows us to unwind and gives us an opportunity to talk to somebody. And Jason does a great job talking to us veterans."
"Seeing the way society has changed its view of veterans, I am very appreciative of the acts of kindness people display because I know that there are many veterans that came before me that didn't get to experience that kindness. As much as they appreciate us, we appreciate them."

— Keith Medley,

Navy veteran and junior at
Penn State Fayette
Aside from his service to veterans on campus, Medley is also involved in his local community. As a member of his local Veterans of Foreign Wars, American Legion and Honor Guard, he participates in numerous veteran activities including parades and funeral services. He is also a veteran volunteer with Amedisys, a medical and homecare provider in Uniontown, Pennsylvania, that sponsors various Veteran Appreciation Days throughout the year.
"With Amedisys, we go to different nursing homes and assisted living centers to visit the veterans that are there and to let them know that they are appreciated and haven't been forgotten," Medley said. This is significant to him because his father is a Vietnam War veteran who returned home in 1968 not receiving the kindness and appreciation shown to veterans today.
"Seeing the way society has changed its view of veterans, I am very appreciative of the acts of kindness people display because I know that there are many veterans that came before me that didn't get to experience that kindness," he said. "As much as they appreciate us, we appreciate them."
Honoring veterans year-round
Every year, Penn State is recognized for its many programs and services available to veterans and, in 2013, the University Park campus was ranked the top university for veterans. This year, multiple Commonwealth Campuses — Penn State Abington; Penn State Berks; Penn State DuBois; Penn State Erie, The Behrend College; Penn State Harrisburg; Penn State Schuylkill; Penn State Shenango and Penn State York — and the Penn State World Campus participated in a survey for and received Victory Media and G.I. Jobs magazine's "military friendly" designation for their outstanding work with veterans.
For the past three years, Penn State has hosted Military Appreciation Day, an event that takes place on a home football game day the week of Veterans Day. Seats for Soldiers, a program that provides free football tickets for active-duty members of the military, veterans, Wounded Warriors and Gold Star/Fallen families, is the centerpiece of the event, which is administered by Penn State's Intercollegiate Athletics in conjunction with the University's Military Appreciation Executive Committee.
This year's Military Appreciation Day will be held on Nov. 15 for the Penn State vs. Temple football game.
"We had 100 participants in 2010 and 1,500 in 2013," Michael DiRaimo, special assistant to the president for Governmental Affairs and chair of the Military Appreciation Executive Committee, said. "This year, we have roughly 5,000 members of the military and their family members participating."
Prior to attending the game this Saturday, members of the military also will participate in a pregame tailgate at Pegula Ice Arena, where more than 200 volunteers, including senior-level University administrators such as President Eric Barron, will serve them food donated by corporate sponsors.
Also, through a variety of activities during Military Appreciation Week, Nov. 9-15, Penn State also is recognizing and expressing appreciation for all members of our nation's armed forces — veterans, active-duty and reserve servicemen and servicewomen, and ROTC members — for their dedication and commitment to our country.
For more information about Penn State's military appreciation efforts and for a schedule of events, visit http://military.psu.edu.