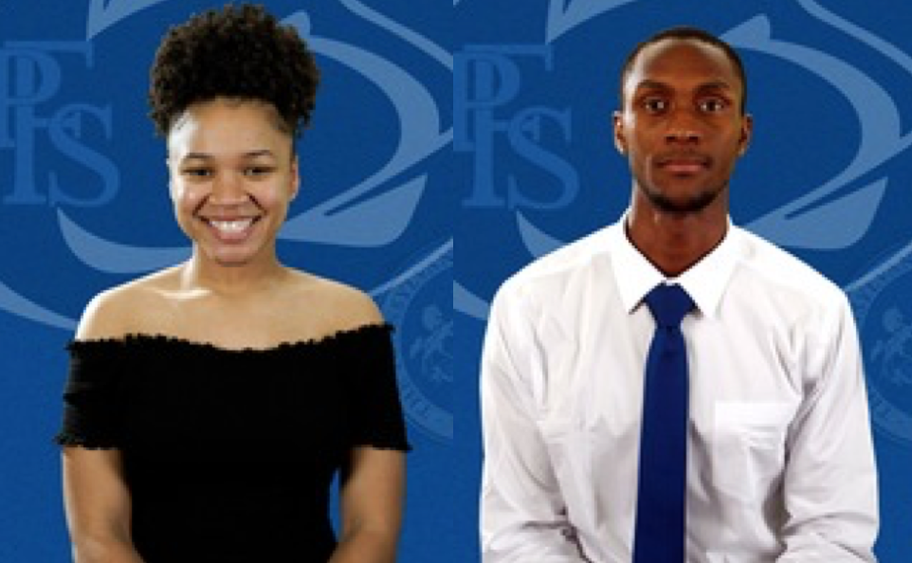 LEMONT FURNACE, Pa. — Two students at Penn State Fayette, The Eberly Campus have been awarded the 2021 National Student-Athlete of the Year award by the United States Collegiate Athletic Association (USCAA).
Taylor McCormick and Iman Young were honored in a virtual program on April 6. Each year, one student-athlete is selected as the award recipient in each USCAA sport and division. According to the USCAA, the award recognizes exemplary academic achievement and community involvement. Winners are selected by a committee of national office members, board members, and member athletic directors.
McCormick, a graduate of Eleanor Roosevelt High School in Laurel, Maryland, is a sophomore nursing student and member of the Fayette women's basketball team. In 2020, she founded the Multicultural Student Association on campus, for which she serves as president. She is also a member of the National Student Nurses Association and the Student Initiated Fee board, and she is a Penn State campus ambassador.
"It is an honor to represent Fayette's athletics program for academic achievement and community involvement," said McCormick. "I work really hard to excel as a student, an athlete, and an overall person. As a future nurse, I naturally care about the wellbeing of others. These pursuits are important to me because living an exemplary life in front of others may encourage them to do the same. I am truly blessed in so many ways, but I owe it all to God."
Iman Young, a graduate of West Potomac High School in Silver Springs, Maryland, plays center for the Fayette men's basketball team. Young will graduate in 2021 with a bachelor of science in business.
He has previously received the Eberly Family Scholarship and the Eric A. and Josephine S. Walker Award for outstanding qualities of character, scholarship, leadership, and citizenship have positively influenced the campus and University community. He participates in Business Club, the Student Government Association, the Student Life Committee, and the Multicultural Student Association. Young, a United States Army veteran, also serves as vice president of the Student Veterans Association.
"It's a blessing to be able to represent Fayette in this manner," said Young. "This is important to me because I have high standards for myself. I don't necessarily need to win an award to meet my standards, but it shows me that my efforts are recognized."
Young was awarded the National Student-Athlete of the Year award in 2020, the first recipient to win the award twice in Fayette history.
"I cannot be prouder of these two well-deserving national award winners," said Lou Zadecky, athletic director at Penn State Fayette. "Taylor and Iman are two standout student-athletes in the classroom and on the basketball court. They embody the true academic excellence we strive for in all our student athletes. I extend my deepest congratulations along with our athletic department, coaches, and student-athletes."